Supply Chain Cloud
Orchestrate the entire supply chain to achieve perfect order fulfillment.
What is
Supply Chain Collaboration?
Supply Chain Collaboration reduces supply chain variability by sharing orders, shipments and forecasts with suppliers.
Tradecloud's Collaboration platform allows buyers to share orders, production plans, forecasts, and shipments, allowing suppliers to be more responsive when meeting demand requirements from thousands of miles away. With a high level of communication in the cloud, companies can improve on-time delivery rates to customers and adapt to rapidly changing demand without adding to inventory costs. Supply Chain Collaboration aligns supply and demand in real time.
Make Your Supply Chain
Predictable and Save Costs
Make the Supply Chain Predictable
By working with the supply chain platform, users realize shorter lead times, less errors and higher margins. In this way e-procurement contributes to building a sustainable competitive advantage.
The supply chain platform helps companies optimize their procurement and production process. Tradecloud delivers big data analysis and actionable insights to continuously improve the entire purchase to pay process and to save costs. Improvements in supplier reliability, track & trace and forecasts help drive a complex supply chain.
Share orders real-time from the existing ERP system (such as SAP, Exact or NAV), and avoid email and Excel as tools to match. Everybody looks at the same information. The purchase to pay process is transparent so customers and suppliers can communicate more quickly about orders and deliveries.
The Largest B2B Network in the Sector
Tradecloud has 100% focus on industry, wholesale and its suppliers, making it a unique B2B network. More than 30,000 companies are active. Tradecloud also invests in connecting key suppliers.
"In five years we will control our factory without manual labour."
Frank-Jan Evers
Plant Manager at Agrifac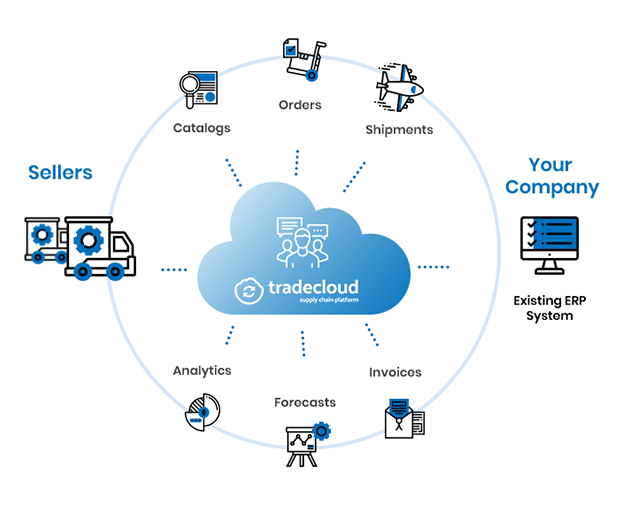 Key features
Automatically send Orders from ERP

Workflow for exceptions in order confirmations

Supply Chain Chat 'in context' of orders or deliveries

Real time Supplier reliability metrics

Maintain Item Master data

Large B2B supplier network
Many well-known parties active.
The success of e-procurement is largely due to the successful connection of suppliers. Tradecloud provides a platform where many suppliers and buyers are already active.
This is also more advantageous and attractive to suppliers than one to one EDI connections. As a result, our conversion is much higher than that of other solutions.

A Standard Solution.
Integration of the whole process
Tradecloud provides functionality for the entire purchase to pay process, adding central communication, real-time insights and KPIs. Other solutions often only provide technical integration.
Leidende bedrijven zijn al actief op Tradecloud
Demo request
Leave a message
and we will contact you.