B2B Commerce
For the B2B manufacturing and wholesale industry

Tradecloud is the leading B2B platform that focuses entirely on the international manufacturing and wholesale industry.
Join and get in touch with many potential customers. Tradecloud helps suppliers to get new customers and makes it easier to share product information.

Automate your Operational Sales
The supply chain platform helps companies to automate and optimize their sales processes.
Make sure customers know directly whether you can meet their demand and make sure orders and confirmations are automatically exchanged with your own ERP system.

Tradecloud delivers big data analysis and actionable insights to continuously improve the entire process around orders. Insight in supply reliability, track & trace and forecasts help to integrate the logistics chain.
Chain integration with customers will lead to better customer loyalty.

Tradecloud is a unique B2B network because of its focus on the manufacturing industry and its suppliers. Starting is easy and you will experience the benefits within a few weeks.
Already more than 30,000 companies are active on the supply chain platform. As a participant we can put you in contact with customers. In this way, Tradecloud helps to grow the business.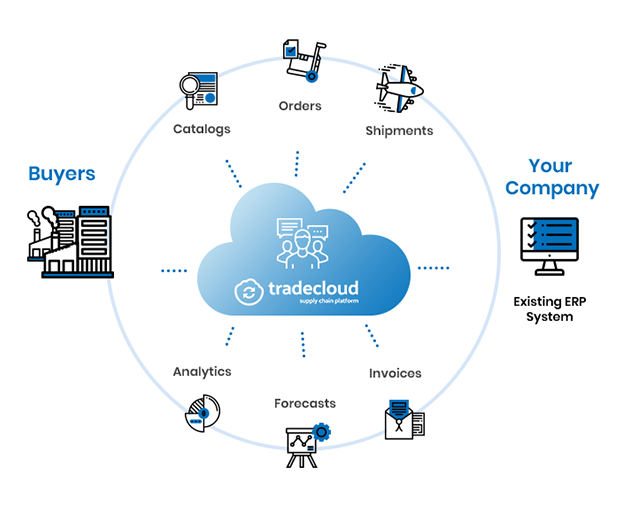 Key features
Order-to-Cash functionality
Integrate quickly and easily with your customer

Receive orders and confirm automatically

Central communication 'in context'

Receive forecasts from customers

Share item data and availability

Largest B2B Network.
Many known parties already active.
Tradecloud is the largest network in the manufacturing and wholesale industry. Join and get immediate access to renowned industrial companies. For suppliers this is cheaper and more attractive than installing one-to-one EDI connections.

Receive and confirm Orders.
Integration of the entire Process.
As a supplier you receive orders directly from the customer's ERP system via Tradecloud. You can then confirm the orders in full or change them (in part) on quantity, price or delivery time. Changes are immediately adjusted in the linked ERP systems, so everyone looks at the same information.
Leading companies are already active on Tradecloud