Automate operational processes
and reduce your manufacturing risks
More speed, less waste and a more predicatable process.
Reduce supplier risk and focus on exceptions.
Gain visibility and control over your spend and supply chain operations. An all-in-one manufacturing software solution increases collaboration with all suppliers, from raw materials and components to MRO and indirect goods and services.
Your Manufacturing challenges:
Too much order handling
Improve supplier realiability
Get better insights in deliveries
Standization of processes
From ETO to CTO
Our Solution:
One platform for all external interactions
Share CAD files with suppliers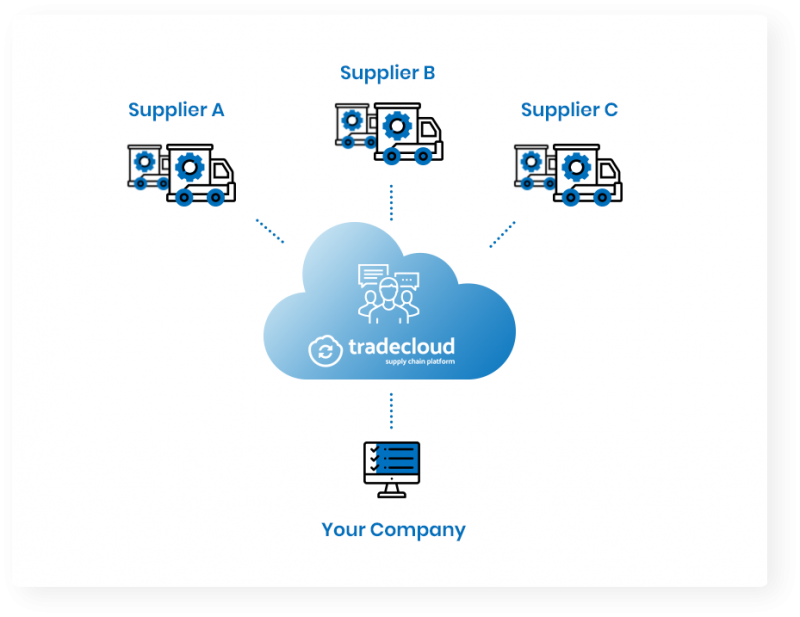 Tradecloud is the leading B2B platform that focuses entirely on the international industry and trade.
Join and get in touch with many potential customers. Tradecloud helps suppliers to get new customers and makes it easier to share product information.

Automate your Operational Sales
The B2B eCommerce platform helps companies to automate and optimize their sales processes.
Make sure customers know directly whether you can meet their demand and make sure orders and confirmations are automatically exchanged with your own ERP system.

Tradecloud delivers big data analysis and actionable insights to continuously improve the entire process around orders. Insight in delivery reliability, track & trace and forecasts help to integrate the logistics chain.
Chain integration with customers will lead to better customer loyalty.

Tradecloud is a unique B2B network because of its focus on the industry, trade and its suppliers. Starting is easy and you will experience the benefits within a few weeks.
Already more than 30,000 companies are active on the B2B eCommerce platform. As a participant we can put you in contact with customers. In this way, Tradecloud helps to grow the business.

"We now have insight into the entire purchase order flow within the platform."

"Everywhere you have to deal with unnecessary purchasing activities and the availability of supply chain data that you and your suppliers can do more with."

"We have been able to reduce the delivery time from 8 to 2 weeks."

Voortman Steel Group: send orders automatically to suppliers, only focus on the exceptions!
A standard platform for manufacturing companies

Proven results in
weeks
, not years
More information?
Leave a message
and we will contact you.