Orders overview
The order overview is the place where you can keep trace of all your orders. The details of the order overview will be explained in this page.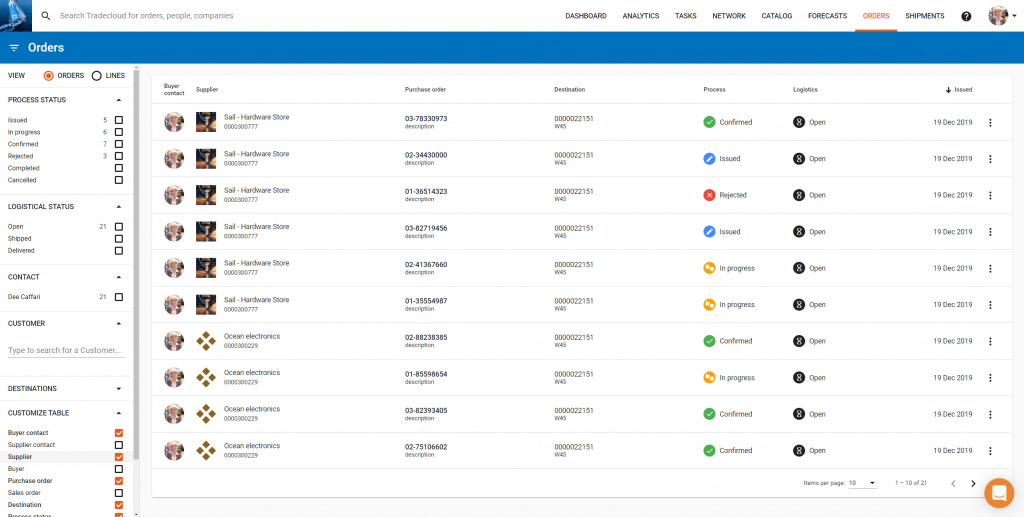 Here you can see the information about the orders or order lines that are in Tradecloud. You can determine whether you see order or order lines by selecting 'orders' or 'lines' at the top right.
A user can decide for himself with data he wants to see in the order table, depending on what he wants to see. The following data can be selected by the user in the 'customized table':

Buyer contact
Supplier contact
Supplier
Buyer
Purchase order
Sales order
Destination
First delivery
Process status
Logistics status
Updated
Issued (order issue date)
Actions
Moreover, a user can filter out the orders for one (or more) specific company by using the search box. Besides this, it is possible to filter orders by destination in the case if you have multiple facilities and it is even possible to link a user to an order, so a user can filter on his own orders.
Furthermore, it is possible to filter on process statuses, logistical statuses and on order labels. And to search for orders, more about the order search functionality here.
At this moment, 'overdue' is the only order label. In the future other labels will be added.
*Logistical statuses will only be users if you make use of the shipments module.
Order lines can have the following statuses:
| | | |
| --- | --- | --- |
| | Issued | Order(line) is not yet confirmed by the supplier. |
| | In progress | Order(line) is confirmed with an inconsistent date, quantity or price |
| | Confirmed | Order(line) is confirmed without discrepancies |
| | Rejected | Your order(line) is rejected by your customer/supplier |
| | Completed | The order(line) is completely handled at the buyer, usually when the supplier invoice is received and approved by the buyer. |
| | Cancelled | The order(line) is cancelled by the supplier/customer |
Orders do have the same statuses as order line. The status of the order depends on the statuses of the order lines within an order. When all lines within one order have the same status, the order itself will logically have the same status as all the lines. When all order lines do not have the same status, the order status will be determent following this table:
Order line statuses
Order status
≥ 1 lines: 'Issued'
≥ 1 lines: 'Cancelled'
Issued
≥ 1 lines: 'Issued'
≥ 1 lines: 'Any other status, except Cancelled'
In progress

≥ 1 lines: 'In progress'
≥ 1 lines: 'Any other status'
In progress
≥ 1 lines: 'Rejected'
≥ 1 lines: 'Any other status'
In progress
≥ 1 lines: 'Confirmed'
≥ 1 lines: 'Completed'
Confirmed

≥ 1 lines: 'Confirmed'
≥ 1 lines: 'Cancelled'
Confirmed

≥ 1 lines: 'Completed'
≥ 1 lines: 'Cancelled'
Completed