Last week we invited some supply chain managers to discuss the roadmap of the Tradcloud supply chain platform. Once again we want to thank all participants for their input on this day!
We started the day with a glass of champagne to celebrate Tradecloud's new website and the investment of InnovationQuarter and informal investor Paul van Keep, co-founder of Exact Software. We presented this day our 2016 Milestones and we had a productive brainstom session about the future of the Tradecloud1 Platform.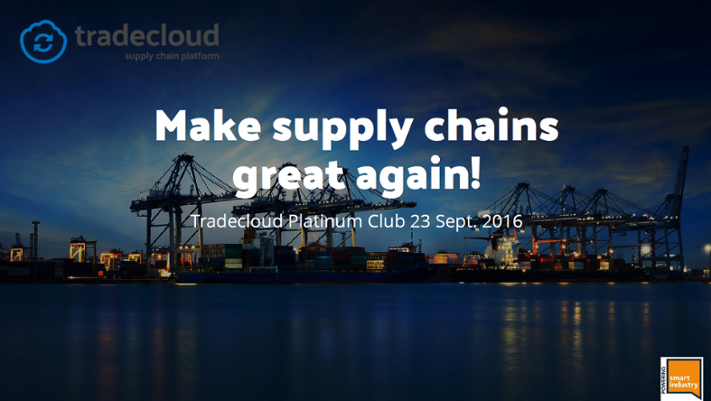 Milestones of 2016
We are happy to announce that the Tradecloud network is increasing! This expansion is also good news for our (new) clients. This means that a client doesn't need to worry about the activity of their suppliers on the Tradecloud1 Platform. A big advantage of our platform lies in the fact that suppliers have the convenience of reaching different buyers in one place. Both parties, the buyers and the suppliers, can communicate quick and easy through one dashboard in the cloud. In addition to that, they have accces to real-time order data via one dashboard.
Connecting with the Tradecloud1 Platform is even easier for clients, because we have more ERP connectors (Exact, NAV, SAP, Ridder, ISAH, Infor) that are compatible with the Tradecloud1 Platform.
We saved the best milestone for last. We are proud to introduce our new Customer Success division! The goal of our Customer Succes is that "our customers achieve their desired outcome through interaction with our company" (Lincoln Murphy). Via Customer Succes clients can ask help or guidance concerning the Tradecloud1 Platform. Clients can also give suggestions about the platform. If they have any other requests, they can communicate that also to our Customer Success.
We finished the day of with a delicious lunch.
If you want to stay up-to-date with all Tradecloud news, do subscribe to our monthly newsletter.
If you have any other questions, do not hestitate to contact us through this form.