Tradecloud launched it's newest version of the supply chain platform for faster and cheaper collaboration within the chain.

Last week, Tradecloud, the leading B2B platform for the industry, launched it's newest version of its online supply chain platform, called: Tradecloud One. The newest version enables users to collaborate in the supply chain even more easily, process orders 'zero touch' and enables to have real time insight in the exceptions.

Tonnis de Boer, co-founder of Tradecloud: "The last few months it became clear that the essence for a faster and flexible supply chain became even more necessary. With Tracloud One we lay down the basis for a self-managing, AI driven, supply chain where companies can save costs with and react faster on market conditions. We are proud that Damen Shipyards has already started with this."


At the moment the industry and trade make insufficient use of technological options to combat waste. Examples of this are holding too much stock, slow anticipation on market changes and unnecessary manual labour. The new Tradecloud One supply chain platform is an improvement on the previous version and helps the industry and trade with managing and solving these supply chain challenges, whether they were already existing or newly emerged by the pandemic.
"On average, buyers and suppliers spend 50% percent of their time retyping and chasing orders."

Too much manual labour
Researchers of Gartner discovered  that buyers and suppliers spend 50% of their time retyping and chasing orders. In general, waste of time is the biggest expense for companies.
Manual work can lead to a slow matching of supply and demand and the unnecessary address of raw materials. 
Tonnis de Boer,  says: "Effective collaboration is more important than ever and employees should focus on activities that really add value. "

Better user interface
With Tradecloud One users get the tools to work even more efficiently. The platform includes an improved user interface. This enables users to search more easily, find suppliers and buyers and connect with them in such a way that is reminiscent of laying a LinkedIn-connection.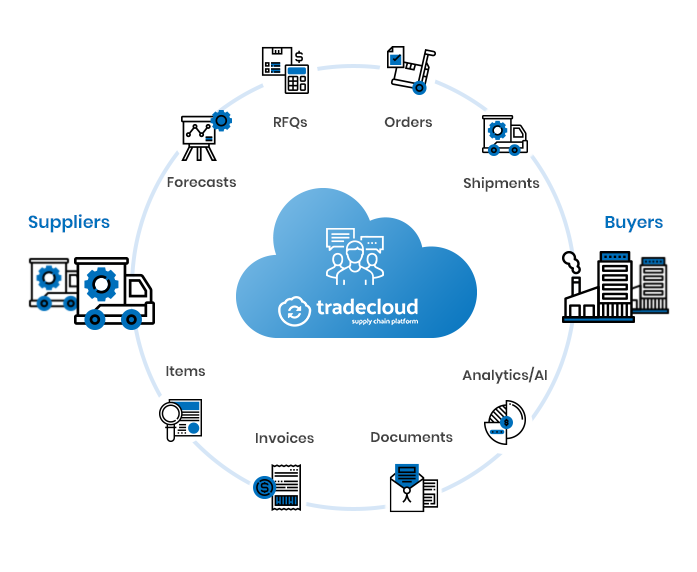 Connecting ERP to multiple customers
Tradecloud One allows companies to integrate an ERP system, with multiple buyers and suppliers,with just one interface. The new platform features a clearer insight where action must be taken. There are also more supply chain analysis options added and the managing of processes, based on exceptions, becomes easier with Tradecloud One.

Advanced modules
In addition, Tradecloud One is equipped with advanced modules for orders, confirmations, workflows, documents, as well as the possibility to chat in real time with chain partners. Tradecloud One is even faster, more scalable and more secure. De Boer: "We are committed to provide a platform that enables our customers to respond to market developments faster than ever before. This way they are just a step faster than the competition".
"Industry and trade must move from 'what happened' to 'what's going to happen"
Automated order flows
With the supply chain platform, companies specialized in industry and trade can automatically send purchase orders to suppliers, possibly provided with drawings or other related documents. Suppliers confirm these orders in the platform, ERP data is immediately updated and deviations flow directly to a workflow. The communication about orders is visible at a central point and users have direct and real-time insight into delivery reliability and possible risks. Everyone in the chain sees the same information, which prevents unnecessary discussions.
Respond more flexible to supply and demand
The usefulness of a platform for the largely automated exchange of order information has already been proven, according to De Boer: "An online platform that provides insight into supply chain flows helps to respond more flexibly to supply and demand and to reduce stock in time. It also gives manufacturers the opportunity to focus more on customer performance."

Tradecloud is the leading supply chain platform for industry and trade. It is a standard, ERP independent, cloud-platform with 100% focus on supply chain optimization within the industry. Customers rely on Tradecloud to make their global supply chain more predictable, to automate operational processes and to focus on exceptions. The fast-growing network connects thousands of B2B buyers and suppliers, including Eriks, Van Egmond, Alfen, Damen, Nooteboom, Quooker, Voortman, Koninklijke Gazelle, Fabory, Bosch Rexroth, Agrifac and Intersafe.