HOW TO – Invite a Tradecloud supplier
To invite a supplier you have to go to the Network page. You can access the Network page by clicking on your profile picture at the top right, after that select "My Network"

Then click on the orange circle with the + in it. The following window will appear: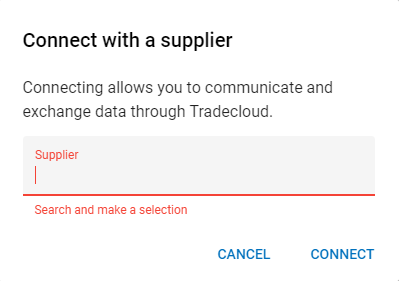 Fill in the name of a supplier you want to invite, Tradecloud will search for the supplier within our network of companies. After selecting the right company and pressing "connect" your supplier will receive an invitation by mail.
After your supplier has accepted your connection request, you can add the supplier account code out of your ERP system to the suppliers, by clicking on the pencil when you move over the connection with your curser.
If you cannot find the company you are looking for, please fill this form. The company you are searching for is probably not yet active on our platform, therefor we need to invite the company.