Order & order line details
Via the order overview, it is possible to open the order detail page. It is also possible to open an order detail page, by clicking on an order number everywhere on the platform. On the order detail page, you can find all the information related to that order(line).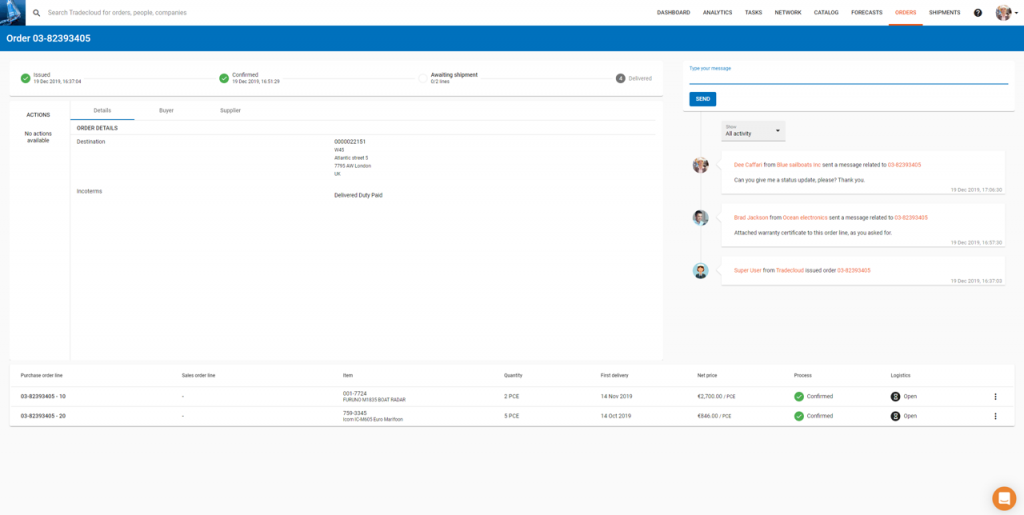 At the top of the detail page, the order timeline is visualized, this timeline shows the most important order status events if you want to see all the order events you can view the order activity stream at the right. This stream on the right logs all order activity, eg. order status updates, communication & document uploads.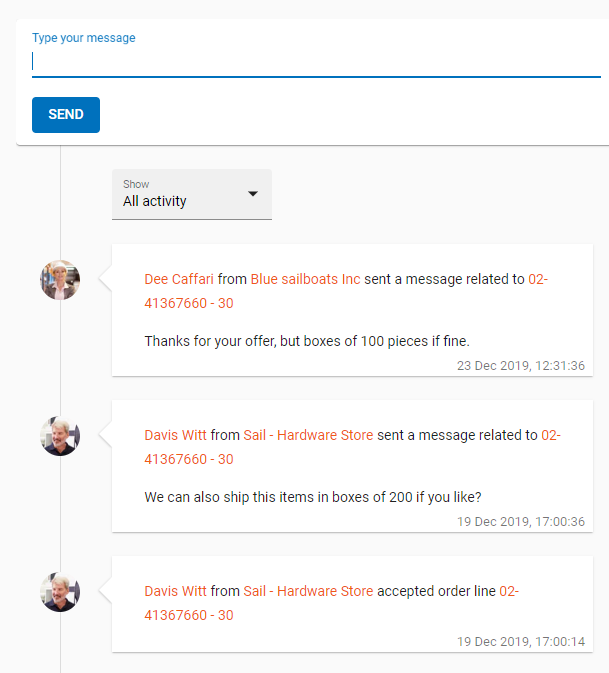 Below the timeline the order information is shown, there are three taps, Detail, Buyer & Supplier. In the detail tap all data related to the order is shown, eg. the destination, the incoterm and, payment term. In the buyer tap all buyer specific data is shown, eg. sales order number, project number, notes. In the supplier tap, all supplier specific data is shown, eg, the sales order number of the supplier.
Below the order info, the order lines that are linked to the order are shown, along with the most important information about those order lines. Suppliers can select multiple lines to perform bulk actions, like confirmation and rejections. One click on a line number will open the order line detail page, this page has the same layout as the order detail page and shows all line information that is known within the platform. In the line detail page, buyers and suppliers can perform some actions, these actions can also be done on the Tasks page.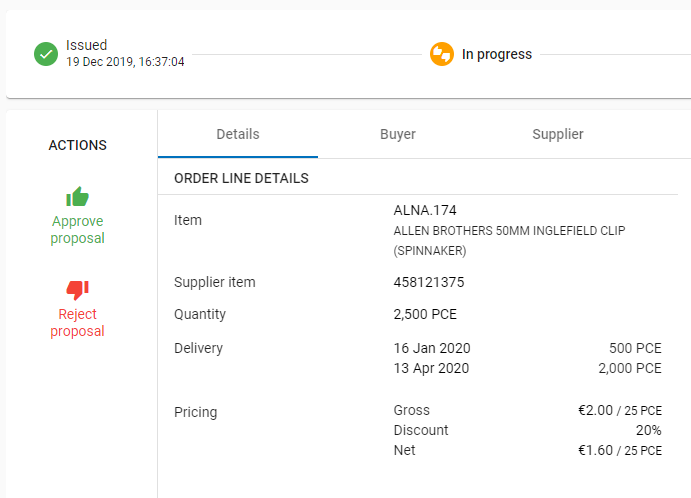 Actions a supplier can perform:
Confirm an order line
Propose changes based on Price, Quantity and Delivery date
Reject an order line
Reopen an order line based on Price, Quantity and Delivery date
Approve a reopen request
Reject a reopen request
Cancel an order line
Actions a buyer can perform:
Approve order line changes
Reject order line changes
Approve a reopen request
Reject a reopen request
cancel an order line
It depends on the status of an order line which actions can be done.