Bedrijven die echt bezig zijn met een digitale transformatie begrijpen dat de toekomst niet in ligt in het automatiseren van traditionele processen. Het lastige is dat we midden in het automatiseren van die processen zitten. Er is nog heel veel te doen. Zelfs het het handsfree uitwisselen van orders ( een doel uit de 90'er jaren) is nog steeds beperkt. Bedrijven die deze processen ge-outsourced hebben zijn er over het algemeen op achteruit gegaan omdat ze verder van hun leveranciers en/of klanten komen af te staan.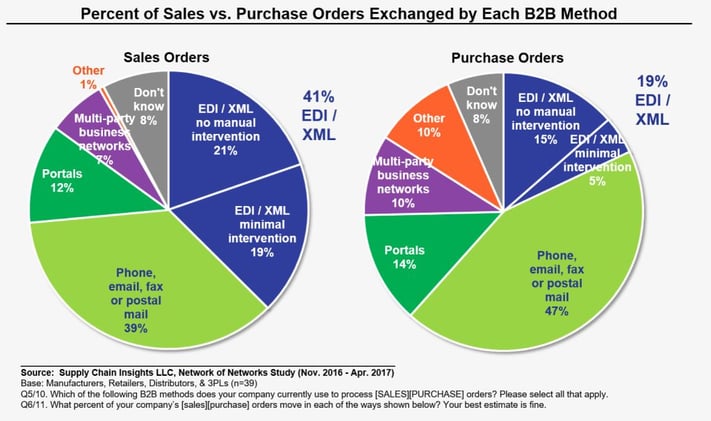 Dus wanneer stoppen met het digitaliseren van de papieren processen? Door het gebruikt van een email, EDI of scan oplossing voelen we ons misschien beter doordat we voor de korte termijn wat handelingen hebben geautomatiseerd, maar echt veel waarde levert het niet op.
Ik denk dat er een aantal uitgangspunten zijn waar we aan vast moeten houden om wel verder te komen:
1. Een efficiente supply chain is niet de meest effectieve
2. Automatiseren is niet hetzelfde als digitale transformatie
3. Het gaat niet om technology maar om waarde
4. Het gaat niet om kosten besparen maar om snelheid en flexibiliteit
5. Er zijn geen vaste uitkomsten, het is een tijd van beginnen en experimenteren
Meer weten? Volg een webinar of plan een persoonlijke afspraak met onze experts.