Order overview
The order overview is the place where you can keep trace of all your orders. The details of the order overview will be explained here.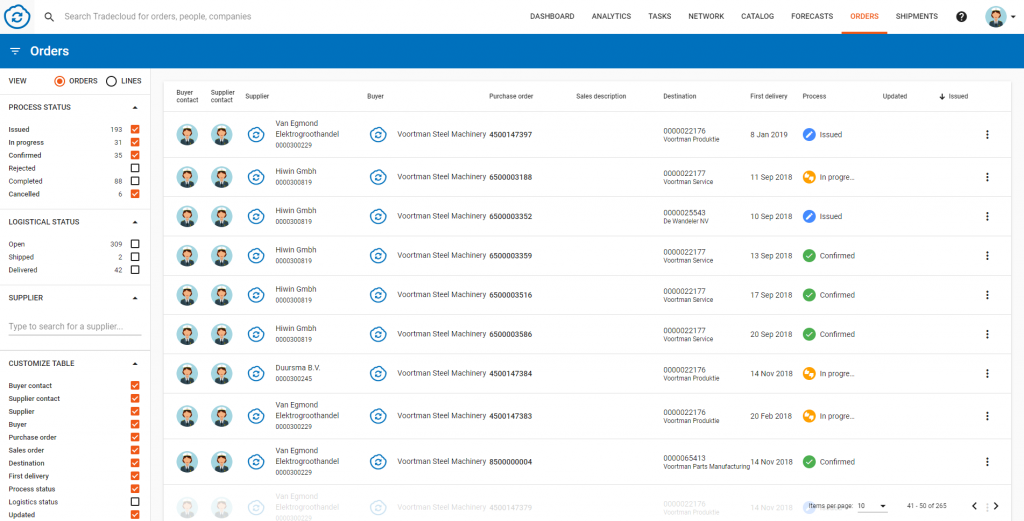 Here you can see the information about the orders or order lines that are in Tradecloud. You can determine whether you see order or order lines by selecting "orders" or "lines" at the top right.
Different categories can been shown in the overview, depending on what you want to see. You can also filter on specific order statuses.
The following categories can be selected:
Buyer contact
Supplier contact
Supplier
Buyer
Purchase order
Sales order
Destination
First delivery
Process status
Logistics status
Updated
Issued
Actions
Order lines can have the following statuses:
| | | |
| --- | --- | --- |
| | Issued | Order(line) is not yet confirmed by the supplier. |
| | In progress | Order(line) is confirmed with an inconsistent date, quantity or price |
| | Confirmed | Order(line) is confirmed without discrepancies |
| | Rejected | Your order(line) is rejected by your customer/supplier |
| | Completed | The order(line) is completed based on your ERP's definition of completed |
| | Cancelled | The order(line) is cancelled by the supplier/customer |
Order can have the same statuses as order line. The status of the order depends on the statuses of the order lines within an order. Leading statuses are; In progress, and Cancelled. A order will have the status Issued, confirmed or completed when all order line in that order have that specific status.
order line statuses
order status
Issued
In progress
In progress
In progress
Confirmed
In progress
Rejected
Confirmed
In progress
Canceled
Confirmed
Canceled