Order & order line details
Via the order overview it is possible to open the order detail page. It is also possible to open an order detail page by clicking on an order number everywhere on the platform. On the order detail page you can find all the information related to that order(line).
The order number is displayed at the top richt (*1). Below the order number there is a order timeline, this line shows in which part of the order process the order is. Below the order timeline the order details are visualized in three columns. The details about the order are shown left (*3), the details about yourself are shown in the middle (*4), if your ERP system has the feature to link employees to an order, Tradecloud will take over this information. The details about the your buyer/supplier are shown left (*5). The order lines that are linked to the order are shown, along with the most important information about those order lines(*6). Communication about orders and changes of order (line) statuses is shown an the bottom of the page(*7).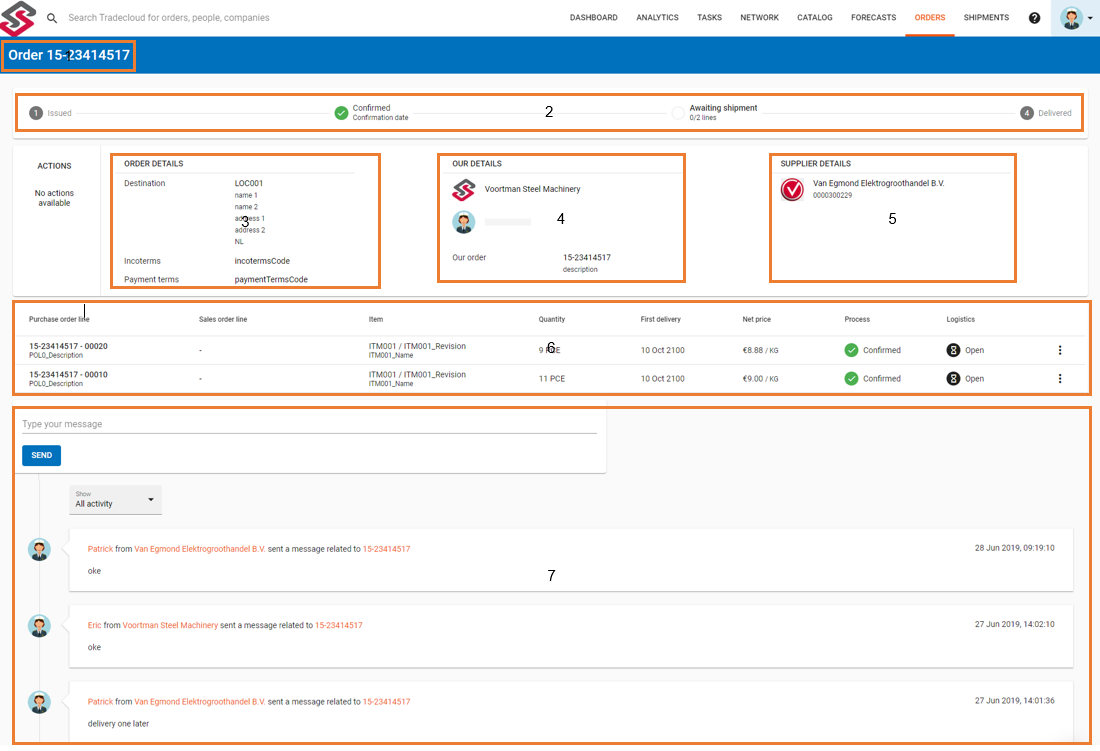 By clicking on one of the order line, the order line detail page will open. This page has the same lay out as the order detail page. In the order line detail page actions can be done(*8), this actions also appear as tasks in the tasks page. Actions that can be done are:
For the supplier:

Confirm an order line
Reject an order line
Propose changes based on Price, Quantity and Delivery date
Cancel an order line
For a buyer:
Approve order line changes
Reject order line changes
cancel an order line
It depends on the status of an order line with actions can be done.